Pictureplane at Chop Suey on Wednesday, December 4
The darkness tinged, fuzzy electro of Denver based producer, Pictureplane is difficult to pigeonhole into any particular genre. His assertive, '90′s house influenced beats grip you by the hips and spur the body into undulating movement. Devoid of much frivolity, there's a smokey, gothic overtone to it as it buzzes through your ears. This show at Chop Suey, where Pictureplane headlines a lineup accompanied by local DJs, DJAO and WD4D, will be a night of misty melodies and synth heavy electronica. Cue the fog machine.
Borrowed Tribe: Work by Laura Castellanos at 4Culture on Thursday, December 5
For this multi-media art show for Pioneer Square's First Thursday Art Walk, the "tribe" in question refers to the over 150 different sock puppet like character figures adorning the walls of 4Culture. The glorious result of Laura Castellanos' sprawling imagination, this artist usually known for her 2D work has diverted into new territory for this collection, created as an homage to her grandmother. Join her for the opening reception of the show for added insight into the story behind each character.
Ghost Gallery's 7th Anniversary on Friday, December 6
What started out as pop up art shows at boutiques and galleries across Seattle and eventually found a home on Capitol Hill, Ghost Gallery celebrates seven years of curating this Friday and wants you to come join in on the festivities. The shop's miniature art show is still on display, so cruise through to take a peek and perhaps find something to take home. Sip on warm beverages while shopping for Christmas gifts and take advantage of the discounts and deals that shop owner, Laurie Kearney, has in store to mark the occasion.
Pop Life Fridays at Q Nightclub on Friday, December 6
We peaches are pretty picky when it comes to top 40. It's not usually our jam so much, but we do like to get down on occasion. Enter Pop Life Fridays at Q. The last time we were there, the MOViN 92.5 crew had us wilin' out so hard, we were having walk offs on the dance floor. The selections were perfection, steering clear of tired tracks and digging up gems from artists that fall onto the outskirts of top 40. If you need somewhere to bust loose and dance your cares away, Q is the place to find it on a Friday.
Psychadelic Freak Out at Various Locations on Friday, December 6-Saturday, December 7
Stretching across four different venues with sets from 38 different artists, this mini music festival on Capitol Hill will have you in the holiday spirit in no time. The shows all kick off early, and pack in lineups long enough to keep you rocking into the night. For local music fans, this two day showcase is a chance to see familiar favorites and discover exciting new acts in small, intimate venues. Each show is flavored a little differently, from space rock to hip hop, so take a look at the schedule and plan accordingly.
Kadeejah Streets Rocks Flammable at Re Bar on Sunday, December 8
The longest running, tried and true house music night in Seattle hosted by Brian Lyons and Wesley Holmes, Flammable is the hottest dance party a person could ask for on a Sunday night. This week, the masterful Kadeejah Streets steps up to the decks to show us his stuff. For anyone who doesn't have to work come Monday, get turnt up at this late-night party that will have your ass shakin' till the sun comes up.
Macklemore & Ryan Lewis at Key Arena on Tuesday, December 10-Thursday, December 12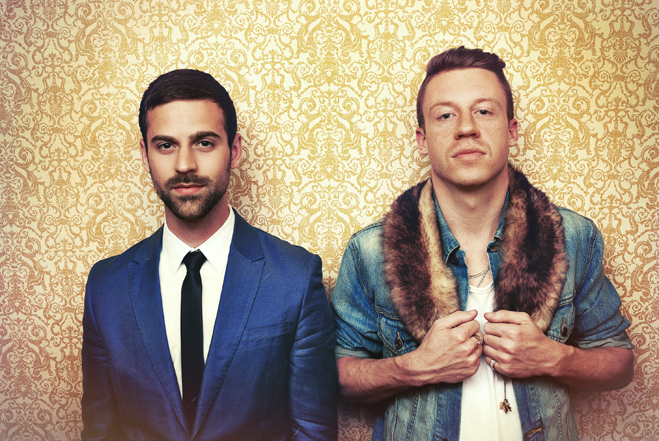 The boys are back in town. Since becoming international superstars, Macklemore & Ryan Lewis have turned their already explosive live shows up to eleven, and for their three day hometown stint, Seattle better be prepared for all out bat shit madness. We peaches are looking forward to seeing a crowd that size go bonkers for a local artist…and maybe kinda hoping we get recognized from that music video we were in that one time.
Tweet